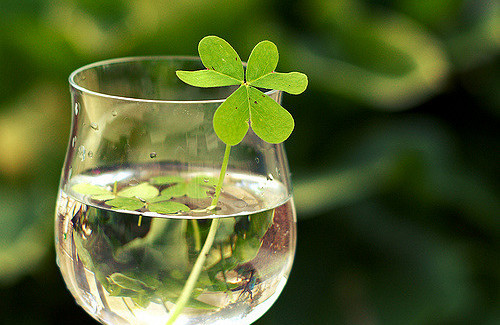 Luck of the Irish
03/16/2016
While St. Patrick's Day is a time to celebrate Irish heritage, let's be honest — it's also a time to indulge in some tasty meals! We've gathered up some of the best St. Patrick's Day recipes from some of our food blogger friends. It's your lucky day!
Traditional Slow Cooker Corned Beef and Cabbage, The Cookie Rookie
Contrary to what special menus around this time of year might have you thinking, Ireland does not claim Corned Beef and Cabbage as its national dish. According to delish.com, this popular St. Patrick's Day dish was invented as a cure for homesick Irish immigrants in the United States. Try it for yourself and let your slow cooker do all the work with this homemade version from Becky at The Cookie Rookie.
Skillet Maple Irish Soda Bread, Lemons for Lulu
Did you know that the "soda" in Irish Soda Bread is bicarbonate of soda (baking soda) and not soda pop? Tanya from Lemons for Lulu takes it to the next level with this semi-sweetened skillet version.
Caramelized Cabbage and Onion Colcannon, The Suburban Soapbox
Unlike Corned Beef and Cabbage, this mashed potato, cabbage and onion dish can actually be traced back to Ireland. Kellie from The Suburban Soapbox puts her own spin on this classic with caramelized cabbage and onions.
Guinness Beef Stew, Gimme Some Oven
What's the first beer you think of on St. Patrick's Day? We're willing to bet that the first name to pop into your head was Guinness! Every year on March 17, the number of Guinness pints consumed nearly triples. While we certainly enjoy imbibing, we might actually prefer eating Irish beef stew made with Guinness. With Ali from Gimme Some Oven's version, you can really taste the popular Irish stout!
Shepherd's Pie Twice-Baked Potatoes, Oh Sweet Basil
Shepherd's Pie or Cottage Pie came about when potatoes became available in Europe. Though the two terms have become synonymous, Shepherd's Pie is used for the dish when made with lamb and Cottage Pie is used when the dish is made with beef. Carrian at Oh Sweet Basil puts her own spin on the classic with individual twice-baked potatoes.
How to Roast a Leg of Lamb, The Kitchn
Archeologists tell us that roasted meat was a staple in the English and colonial diets of the 18th century. Also, lamb and mutton were the third most-consumed meats in colonial Virginia. Roasted meat is still a common meal in Irish culture today. The folks at the Kitchn provide a great tutorial on how to conquer this tradition.
Irish Boxty + Mushrooms + Whiskey Gravy, A Spicy Perspective
We all know that potatoes run deep within Irish history and culture and boxty, an Irish potato pancake, are one of the most popular potato recipes. It is thought that boxty dates back to the days of the Irish famine, presumably to make the potatoes stretch further. There are a couple of different recipes, but all contain finely grated, raw potatoes served fried. Sommer from A Spicy Perspective brings this pancake to life with mushrooms and a whiskey gravy.
Irish Apple Cake with Irish Whiskey Caramel Sauce, Lemon-Sugar
The authentic old-fashioned Irish apple cake, also called Kerry Apple Cake, is a sweet treat that would be made throughout the apple harvest season all over Ireland and where each family has their own version of the recipe. St. Patrick is even said to have planted apple trees in Ireland. Erin from Lemon-Sugar combines the Irish apple cake with an Irish whiskey caramel sauce for heavenly bread pudding like treat.
Dublin Coddle, Diethood
Dublin Coddle, a warming meal of sausages and potatoes, dates back to the 1700s, and is traditionally thought of as a city dish eaten in the winter months. It also is a dish that is great for using up leftovers and is traditionally served with a glass of Guinness and piece of soda bread. Katerina at Diethood gives us the best of both worlds with her Soda Bread and Dublin Coddle recipes — just add a pint of Guinness and you're all set for St. Patrick's Day!
Homemade Irish Cream, The Foodie Affair
The launch of the popular Baileys Irish Cream in 1974 saw a groundbreaking innovation of Irish cream mixed with Irish whiskey that took over four years to perfect. The brand is a major contributor to Ireland's rural economy and uses over 250 million liters of Irish whole milk annually. Sandra at the Foodie Affair perfected a simple recipe so that you can make your own Irish liquor at home.
The image "St. Patrick's Day" by Gioia De Antoniis is licensed under CC BY NC-ND 2.0.

Related Articles