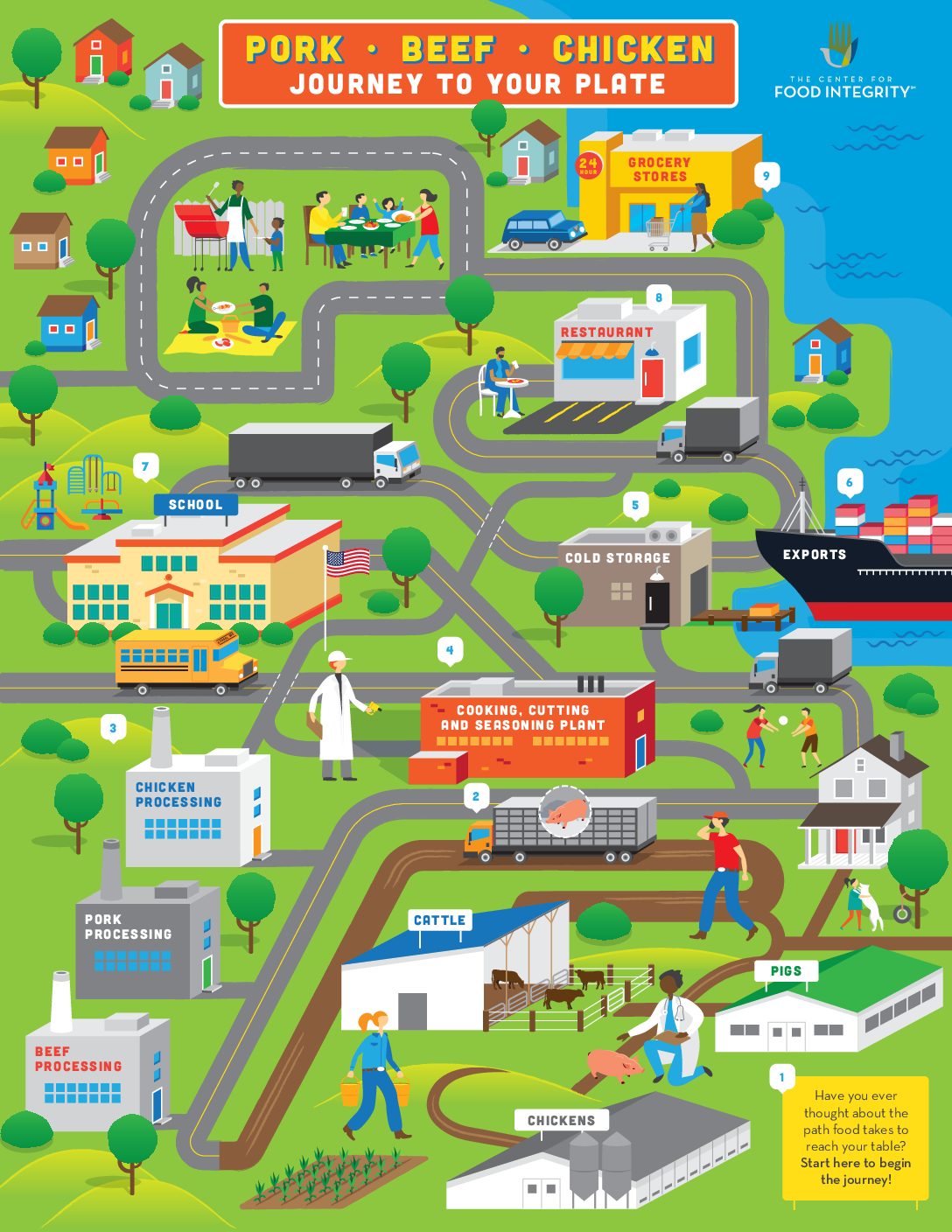 Beef, Pork, Chicken: Journey To Your Plate
05/14/2020
Have you noticed changes in the food available at your grocery store in recent weeks? The COVID-19 crisis has impacted the supply of many consumer products, including the food we eat every day. This has resulted in the unavailability of favorite brands, product shortages and even price changes of many products from paper towels to meat.
The Center for Food Integrity has taken a closer look at all the steps that are involved in the food supply chain for meat and poultry. Animal protein remains one of the most important ingredients in our diet. Meat and poultry production is also the largest segment of U.S. agriculture. The U.S. meat and poultry industry processes, packages and delivers a variety of meats every day to nearly 40,000 grocery stores and 650,000 foodservice facilities.
Whether it's a hot dog at a ballgame, burgers or chicken on the grill, or bacon on ….. well, everything, meat often plays a starring role in our meals.
How much meat do Americans eat each year?
Chicken – 42 billion pounds
Beef – 26 billion pounds
Pork – 25 billion pounds
Check out the infographic to follow the journey of how this meat gets your plate.
On the Farm
Meat begins on farms where farmers, their families, employees and a team of experts like veterinarians, agronomists and nutritionists work together to produce crops to feed and raise healthy animals. The U.S. is home to 2 million farms of all kinds providing the food we enjoy each day.
About 25,500 family farmers produce approximately 9 billion chickens each year.
Nationwide, about 60,000 farmers annually raise and market more than 115 million pigs.
Beef cattle are raised in all 50 states. In total, the U.S. has about 728-thousand farms and ranches raising 32 million head of cattle and calves.
The Next Steps
Transportation: Transportation, usually by truck, represents a critical link in the food chain. Livestock and poultry are delivered from farms to packing plants for processing into meat.
Processing and Safety: There are thousands of federally inspected livestock and poultry plants in the U.S. including 835 federally inspected livestock plants for beef and pork and nearly 3,000 federally inspected poultry plants.
USDA's Food Safety and Inspection Service (FSIS) ensures that meat, poultry and processed eggs are wholesome, safe and properly labeled. Through prevention-based policies and practices, USDA addresses the foodborne challenges of the 21st century using science to continuously improve safety standards.
Major beef plants working two shifts can process 2,000 to 6,000 cattle per day. The average weight of a market steer is 1,250 pounds. Pork plants are usually located in close proximity to where pigs are raised. The market weight of an average pig is 280 pounds. A single pork plant, if running two shifts, may process 20,000 pigs per day.
Cooking, Cutting and Seasoning: Beyond the plants that process animals into meat, more than 3,700 meat companies specialize in preparing a variety of meat products. This includes making sausages and chicken nuggets; packaging meat for restaurants or fine dining; custom cuts for retail grocery stores; or preparing items for schools, hospitals and other businesses.
Cold Storage: Think of this like a large freezer. These locations can safely store meat products frozen until they are needed in the supply chain. Cold storage facilities are critical to food safety and food security.  Meat and poultry products, like fruits and vegetables, are highly perishable and temperature sensitive. In any given month, cold storage facilities in the U.S. house 500 million pounds of beef, 625 million pounds of pork and 900 million pounds of chicken.
Getting to Your Plate
Exports: People around the world enjoy U.S. beef, pork and poultry. Millions of metric tons of meat are exported every year including 1.26 MT of beef, 2.45 MT of pork, and 3.7 MT of chicken.
Service Institutions:  We usually think of eating at home or away at restaurants or our favorite take-out place. Many other places such as hospitals, schools, colleges, nursing facilities, military bases and event centers also prepare and serve food.
Restaurants: The U.S. has more than 650,000 foodservice facilities. These include all forms of away-from-home eating occasions such as quick-service restaurants, cafes, fine dining, take-out and catering/delivery services.
Grocery Stores: Meat is on most grocery shopping lists, whether shopping online or one of the 40,000 grocery stores in the U.S. Beef, pork and chicken can be found in the fresh meat case, the frozen food aisle, the deli case, and in other food products such as soups and frozen entrees.
To learn more, check out Frequently Asked Questions.
It's a complex process that produces, processes, transports and market protein. About 5.4 million people involved in the meat sector feed 326 Million Americans, as well as others around the world, with beef, pork and poultry.

Related Articles