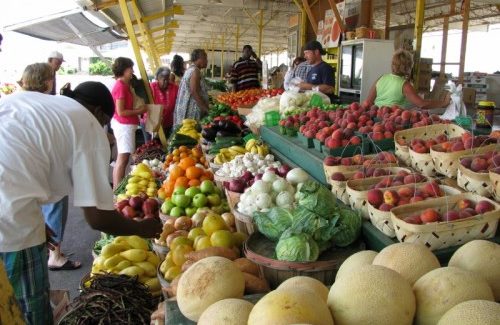 Does Buying Local Food Guarantee It's Safe?
12/07/2015
Farmers' markets remain a growing trend, with 64 percent of the more than 8,400 farmers' markets surveyed by USDA reporting increased traffic in 2014 and 85 percent of market managers wanting to add vendors. This shows consumers are clearly interested in buying local food.
Buying locally helps support the local economy, and could reduce the amount of energy required to ship food from other areas. In some cases, fruits or vegetables may be fresher if bought locally. But does that mean that locally-grown food is safer?
We asked food system expert Dr. Francisco Diez-Gonzalez for some insight into the safety of local foods.
Does buying locally-produced food ensure that it's safe?
"Scientific evidence is not conclusive either way regarding the safety of local food," says Diez-Gonzalez, Department Head and Professor of Food Safety Microbiology in the Department of Food Science and Nutrition at the University of Minnesota. "Research is being conducted, but we don't really know if larger operations are safer than smaller operations that usually sell to farmers' markets. Right now, we can't say farmers' markets are riskier or safer just because the food is locally produced."
"Farmers' markets are diverse and vary from place to place. Also, studies are heavily limited by the kind of microbial testing conducted, so the science needs to advance and develop better assessment tools," says Diez-Gonzalez.
Are smaller farms subject to the same regulations as larger farms?
Currently, small farmers that are likely to sell to farmers' markets are exempt from most food safety regulations, such as the Food Safety Modernization Act. The U.S. Food and Drug Administration (FDA) released a final rule on the food safety act in November 2015 to prevent food problems before they occur.
"If you try to enforce or require the same regulation of small farmers they will go out of business, because they don't have the resources available," says Diez-Gonzalez. "Another reason small farmers are exempt from some regulations is that FDA would face significant challenges to enforce any regulations on every small farm. It's impractical and the impact on local economies could be enormous."
As a result, food safety oversight and recommendations remain very local. For example, Diez-Gonzalez says the Minnesota Department of Health promoted the adoption of Good Agricultural Practices (GAP) among small farmers. The state does not have the resources to enforce, so the GAPs are recommendations rather than regulations. That doesn't mean farmers' markets aren't safe, but it does mean consumers should look for best practices when selecting their produce.
What steps can consumers take to ensure the safety of the local produce they purchase?
Follow these tips to check stands for cleanliness, including gloves and clean utensils for food handling, covered garbage cans, coolers for perishables and clean bags. Reusable grocery totes are a popular, eco-friendly way to transport food, but be sure to use separate totes for raw meat and poultry and ready-to-eat foods, such as fresh produce and breads.
"If you go to a farmers' market and notice containers and the area surrounding the stand don't look clean and well-kept, you may not want to buy from that stand," says Diez-Gonzalez.
Are there certain types of locally-grown produce consumers should avoid purchasing?
"According to the Centers for Disease Control and Prevention (CDC) historical data, sprouts, leafy greens and tomatoes present greater risk than some other crops," says Diez-Gonzalez. "That doesn't mean these products present a greater risk than the products you find in a grocery store; we don't know that information yet. Other produce, such as onions, carrots or peppers, have very little food safety problems."
Regardless of whether you purchase your produce at a farmers' market, a supermarket or elsewhere, you should wash your produce with water. Diez-Gonzalez says there are mixed opinions on some disinfecting products, but washing with water remains advisable to reduce any contamination on the surface of the produce. Cooking vegetables is another way you can reduce food safety risks.
"The perception right now is that local is good and everything organic or natural is good," says Diez-Gonzalez. "When it comes to microbial food safety, we are not 100 percent sure. Some of my peers feel that organic food is less safe, but the evidence so far does not support that conclusion."
Do you shop at local farmers' markets? What kinds of foods do you purchase there? Let us know in the comments!
 The image "Farmers' Market" by Natalie Maynor is licensed under CC BY 2.0.

Related Articles