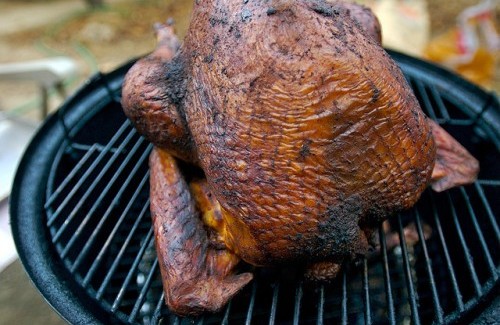 Smoke 'Em If Ya Got 'Em
10/19/2015
Smoked meats, seafood, cheeses, fruits and vegetables have been growing in popularity in restaurants and backyards across America.
Supermarket Guru Phil Lempert named smoked foods as one of his Top Food Trends for 2015, predicting this increase in smoked foods not only in backyards, but also in grocery aisles across the country. Lempert says tomatoes are one of the most popular non-meat items, and that fresh-from-the-grill flavor can now be found in some canned diced tomatoes. In 2015, look for even more smoked flavors to emerge from your favorite foods found on supermarket shelves, menus and recipes.
Lempert isn't alone in calling for a continued rise in the popularity of smokers. The Barbecue Bible predicts, "Smoke, smoke and more smoke," in its BBQ Trends for 2015. Steven Raichlen of that site predicted more smoking flavors, not only in foods you'd expect, like ribs, brisket and pork shoulder (often used to make pulled pork), but in foods not usually smoked (like cocktails, soups, eggs and salads). The Barbecue Bible and other BBQ sites can recommend a number of gadgets and tips for aspiring backyard smokers.
And there are more backyard smokers than in the past, according to the Hearth, Patio & Barbecue Association (HPBA). The HPBA says water smokers are a good choice for beginners because they're affordable and easy to use. Charcoal is the favorite, but electric and gas are very convenient because they maintain a consistent temperature. Horizontal offset wood smokers are an alternative to water smokers. Water smokers start at about $40 and can go as high as $200 or more for a stainless steel version. Horizontal offset smokers run from about $100 to several hundred depending on size and material. Pellet grills, which use wood pellets, are also gaining in popularity. Prices generally range from $600-$2,500.
HPBA compiles a State of The Barbecue Industry every two years, and the 2014 report showed 80 percent of households own an outdoor barbecue, grill or smoker. Thirty-seven percent of consumers have a large moveable grill system on a modest patio/deck, with some outdoor furniture and an informal place to eat.
This lifestyle shift toward more outdoor dining is a contributing factor in the rise of the home smoker and ever-expanding menu of smoked foods. The Barbecue Bible notes that grilled pizza has been around for a long time, but is seeing a proliferation of specialized accessories for cooking pizza on the grill, including pizza stones, peels to transfer the pizza from rolling boards to the grill and back, and whole dome-shaped pizza oven attachments to turn your kettle grill into a wood-burning oven. In addition, you can find tips on smoking fruit, vegetables, desserts and even drinks and cocktails.
There are countless websites to offer tips, recipes and information on smokers and other BBQ products. You can find a directory of over 1,200 of these websites, as well as discussion forums and email groups, at www.thesmokering.com
And to learn more about the health and nutritional aspects of smoked foods, check out this interview with Sarah Downs, MBA, RDN.
Image: "Smoked Turkey" by Luis Ramirez is licensed by CC BY-NC 2.0.

Related Articles