What Foods are Genetically Modified?
08/15/2016
GMOs – genetically modified organisms – have been the topic of many food discussions. With so much talk of GMOs and GM foods, you may be surprised to know there are currently only eight genetically modified crops available in the United States and Canada. Three more have been approved but are not yet available in the market. Keep reading after the infographic to learn more about each GM crop.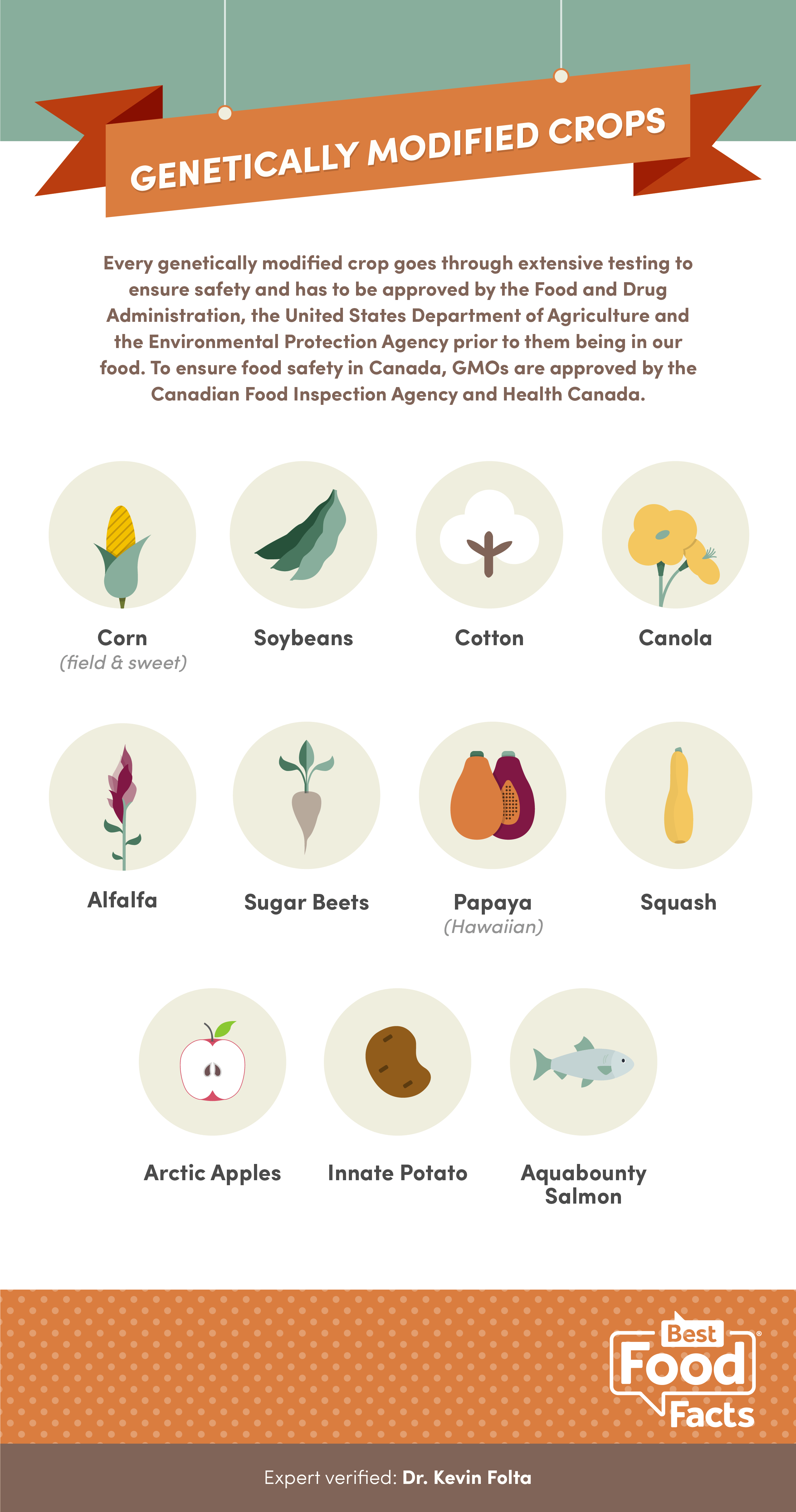 Corn (field & sweet)
The GM version of field corn protects the crop against corn rootworms and the Asian corn borer. Like GM field corn, GM sweet corn also protects the crop against destructive pests.
Soybeans
The GM soybean plant is resistant to pests and disease as well as being tolerant of herbicides that are most effective, allowing for less herbicide use overall.
Cotton
GM cotton requires fewer pesticides and protects against the cotton bollworm.
Canola
Canola has been modified through biotechnology to make it tolerant to some herbicides. This allows for a reduced amount of chemicals needed for weed control. The modified plant also has resistance to pests and fungus.
Alfalfa
The GM version of alfalfa is tolerant of some herbicides, allowing for a reduced amount of chemicals needed for weed control.
Sugar Beets
The GM sugar beet has increased tolerance to some herbicides, allowing for a reduced amount of chemicals needed for weed control. GM sugar beets also have virus and pest resistance traits.
Papaya
The GM version of papaya makes the plant resistant to the prevalent Papaya Ringspot Virus.
Squash
GM squash has traits that improve the plant's defense against viruses.
Arctic Apple
Developed by Okanagan Specialty Fruits of British Columbia, Canada, this new fruit was developed by turning off the enzyme in apples that cause them to brown when cut, bruised or bitten.
Innate Potato
This new potato that resists browning and has fewer unsightly wasteful bruises has been approved by the USDA for commercial planting.
Aquabounty Salmon
This new salmon is genetically engineered to reach market size more quickly than non-GE farm-raised Atlantic salmon. It is available to consumers in Canada.
Want to learn more about GMOs from the experts? Try these posts:
What does a GMO look like?
GMO FAQs
Lasted edited Aug. 15, 2016
Originally posted  Nov. 13, 2014
"Produce" by lukestehr is licensed under CC BY ND.

Related Articles